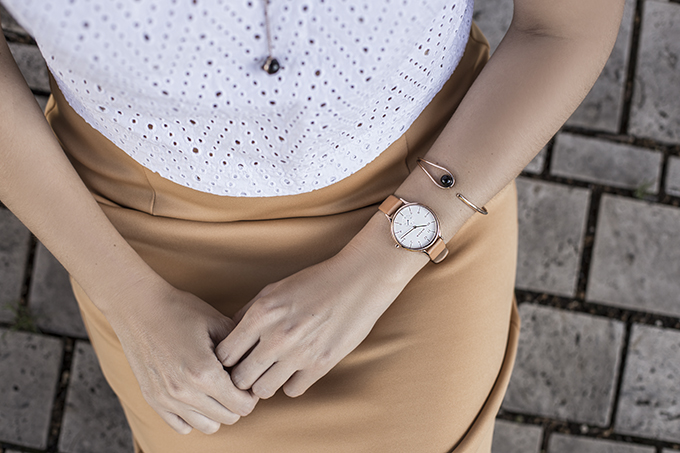 Sziasztok,
Szeretem a színek és formák kavalkádját, de végül mindig az egyszerűség a legkifejezőbb, a harmónia a leggyönyörködtetőbb. Az igazán jó stílusérzék abban mutatkozik meg, amikor kevésből sikerül elérni azt a bizonyos "wow" hatást. A titok pedig a részletekben rejlik.
Ebben az őszi ihletésű outfitben mindent igyekeztem a minimál stílus felé alakítani: egyszerű szabás, leegyszerűsített formák és visszafogott színek jellemzik a szettet. A fehér, csipkére emlékeztető felső olyan, mint egy üres vászon, amire a többi darab felkerül, és így lesz az outfitből egy szép, harmonikus kompozíció. És igen, a részletek: a finom ékszerek és ez a gyönyörű Skagen óra kerül fókuszba az "üres vásznon", teljesen új értelmet adva a kompozíciónak.
Nagyon szeretem ezt az órát hordani, mert tökéletes példája a sallangmentes skandináv dizájnnak. Ennek köszönhetően jól beleillik a legkülönbözőbb outfitekbe.
Puszi,
Festy
Hi Babes,
I do love all the splendour of different colours and shapes but less is more and it is simplicity and harmony that usually have the most powerful effect. It is style on the highest level when you can achieve greatness with only some basic elements and details are usually the key to perfection.
This autumn inspired outfit is really about minimalism: simple cuts and shapes paired with plain colours. This white top with a lacy pattern is like a canvas and the other pieces make a wonderful composition with it. And well…the details. These delicate pieces of jewellery and this amazing Skagen watch are right in the focus of attention and give a new meaning to the outfit.
I love wearing this watch because it is a perfect example of pure and honest Scandinavian design and it can be a central piece of various outfits.
Kisses,
Festy
Promoted post