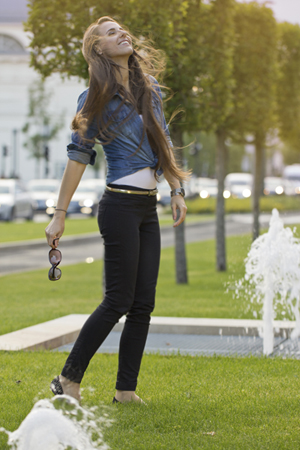 I live in Budapest and Vienna.
I majored in cartography and graduated from Eötvös Loránd University in Budapest.
I studied on Karlsruhe University of Applied Sciences in Germany as well.  I used to do sports professionally.
Fashion was my hobby and I started to write my blog in 2009. And It has become a business. I was the first outfit blogger in Hungary.
I've been invited to fashion weeks (Paris, Milan, New York, London) for 5 years.
Among others I've participated on Gucci, Pucci, Cavalli, DKNY, VERSACE, Iris van Herpen, GANT, Polo Ralph Lauren, Desigual shows.


2009
The birth of Festy in Style blog

2010
Invitations to the biggest fashion events in Hungary as a fashion blogger.
I became the Hungarian blogger of Tally Weijl, I write posts about their clothes which are shared on their website, too.

2011
Fashion Guide was launched and I became a member.
My cooperation started with Marks and Spencer: I regularly post about them and give ideas for outfits.
I collaborated with GAS, I compiled outfits and introduced them on my blog.
I was selected among the 100 most stylishly dressed people at the street fashion show (FOLLOW ME!) of Street Fashion Budapest so I could walk on the runway.
I worked together with Samsonite to improve their online marketing.
I took part in a blogger meeting in the editorial office of Glamour.
I gave a presentation about my typhlo-cartographic research at the Cartographic World Conference in Paris.

2012
Campaign (Look for the badge!) together with PandArte blog, design shops in Budapest and cafés.
Cooperation with Marks and Spencer again. Life-sized Festy pictures were put on the shop windows in Arena Mall and Allee shopping centre. The fist time an international brand used a Hungarian blogger as its campaign face.
Published in Glamour magazine. The article was about the joint campaign of Marks and Spencer and Festy in Style.
Regular guest of Viva television's Interactive live show as a fashion specialist
Published in Cosmopolitan's online version. Interview about the blog.
Cooperation with Cosmopolitan. My own weekly section: Trendtuning with Festy in the online magazine.
Collaboration with MOM Park shopping centre. Facebook campaign and fashion guidance together.
Appearance as a blogger in Tv2's morning live show, Mokka.

I have an own blog in Cosmopolitan: Cosmo Fashion blog.

Printed and online press releases: Kiskegyed magazine, Hölgyvilág, Trendmagazin.hu, Népszabadság. 
I was invited to New York Fashion Week from 8 designer.
Interview in RTL Klub news.
2013
I was invited to London Fashion Week from 10 designer.
I was invited to Paris Fashion Week at an exclusive cocktail party (VSP (Very Special Pieces from Vespucci)).
I study and work as blogger in London.
Cooperation with Springfield. I was on the international website of Springfield.
I was invited to London Design Week.
I was invited to London Men Fashion Week from 8 designer.
Cooperation with Philips.
Big project with Designer Outlet Parndorf in Austria.
Founder of Blogger Shopping Day.
I was invited to New York Fashion Week
2014
I was invited to Berlin Fashion Week.
Cooperation with Marie Claire. I have an own weekly section.
My online fashion channel, FESTYCHANNEL is started. 
I was invited to F&F show in London.
Blogger of Philips Lumea.
Cooperation with Swarovski. I had a international SWAROVSKILOOK campaign with Swarovski. 
Cooperation with Cruciani. I'm blogger of Cruciani.
The HQ of FREYWILLE picked up me, as the blogger of FREYWILLE.
Ambassador of NOKIA.
Face of the Arena Plaza summer campaign.
I was invited to New York Fashion Week.
I was invited to Milan Fashion Week.
I was invited to GUCCI show.
I was invited to exclusive GUCCI party. 
I was invited to

 FURLA presentation. 

I was invited to

 MSGM

 show.
I was invited to PUCCI backstage.

Cruciani exclusive party in Milan.

FREYWILLE AND FESTY

beauty workshop

.

NOKIA

press trip in

Venice.

P&G

press trip in

Berlin.

SWAROVSKI

press trip in

Istanbul.

PANDORA

xmas campaign.
SPRINGFIELD international xmas campaign

2015
L'ORÉAL Makeup Genius video campaign
I was invited to Milan Fashion Week

I was invited to JustCavalli show
I was invited to PUCCI backstage 
I was invited to Paris Fashion Week
I was invited to Iris van Herpen
I was invited to New York Fashion Week

I was invited to DKNY show

I was invited to Polo Ralph Lauren show

I was invited to GANT show

I was invited to GANT after party

I was invited to Desigual show

I was invited to exclusive Maybelline party with models of Victoria's Secret

Blogger trip with Swarovski in Dubai

Cooperation with Adidas for NYFW

Cooperation with Louis Vuitton for NYFW
Adidas Tubular campaign video

Cooperation with GAS Jeans

Cooperation with LEVI'S

Cooperation with Marks and Spencer
Cooperation with Calvin Klein

Pandora xmas campaign

FREEWILLE campaign video

2016
Photo-shooting for GANT in Portugal
I was invited to Milan Fashion Week
Cooperation with Louis Vuitton for MFW
I was invited to VERSACE presentation
I was invited to La Perla presentation
I was invited to MSGM show
Cooperation with MAX&Co.
Cooperation with COCCINELLE